The Failure of Spurs' Youth System
Tottenham Hotspur spends vast sums of money each year to discover, train and support young players through their Academy system but their 25-man squad for this season includes only two players who have progressed to the first team by that route - Ledley King and Jake Livermore.
The publication of every Premier League clubs' 25-man squad for this season has identified a serious question about the success or failure of the Tottenham Hotspur Academy Youth system. In their squad they have only two 'home-grown' players who have actually progressed through the club's youth system - Ledley King and Jake Livermore. The other 'home-grown' players have been bought by Spurs after they developed and gained experience at other League clubs. Michael Dawson came through the Nottingham Forest system, Aaron Lennon developed with Leeds United, Gareth Bale was first discovered by Southampton, new signing Scott Parker and Jermain Defoe were part of the Chartlton Athletic youth system, Ben Alnwick developed with Sunderland and Tom Huddlestone was introduced to League football at Derby County.
Ledley King
Ledley King and Jake Livermore are at opposite ends of their footballing careers. King is the last player from the Tottenham Academy to have played at the highest levels of English football after progressing through the youth ranks and becoming a first team regular at White Hart Lane. He made his debut at Anfield in May, 1999 and is the Club captain. He was part of the the Carling Cup success over Chelsea in 2008 and has also represented England. If through his career he had not been plagued by injury he would have made many more appearances for Spurs and added to his international caps. The Tottenham defence has certainly missed his commanding, assured performances in recent seasons and he is widely regarded as one of the best defenders in English football.
Jake Livermore has just started out on his footballing career, making his first Premier League start in the opening game of the season at Old Trafford, having previously appeared as a substitute against Stoke in March, 2010. He also played in last season's Carling Cup and this year in the Europa League game against Hearts in Edinburgh. He is looking to build on those early opportunities and establish himself in the Tottenham squad and as a regular in the team.
Two true 'home-grown' players in the 2011-12 squad represents a very poor return for the finances invested in the Academy each year. However, some of the young players listed in the Under-21 group will have an opportunity this year to show their worth in Cup games and in the European matches - especially Andros Townsend, while Tom Carroll, Harry Kane, Ryan Fredericks, and Jake Nicholson appeared in the recent home game against Hearts. Other players from the Academy are currently out on loan gaining League experience at clubs in the lower divisions - Adam Smith who has just been selected for the England U-21 team coming on as a substitute is with MK Dons, Jonathan Obika has returned to Yeovil Town and David Button was with Leyton Orient until injury required him to return to Tottenham.
Danny Rose, Dean Parrett and John Bostock are included in the Under-21 squad and would be regarded as 'home-grown' players. They have some first team experience having been members of the Academy but all were identified by other clubs at a young age and Tottenham paid a fee to Leeds United, Queen's Park Rangers and Crystal Palace respectively, to acquire each of them.
Scanning through the lists submitted by the other nineteen clubs, looking for players who have developed with Tottenham is not much more fruitful. The obvious exception is Steven Caulker who is on a season long loan with newly promoted, Swansea City. He is a product of the Tottenham Academy and a player in whom many have high hopes. He has made excellent progress in the past two seasons while on loan with Yeovil Town and Bristol City, winning awards at both clubs, showing that they appreciated his talent and endeavour on their behalf. He made his first Spurs' appearance in the Carling Cup last year and has played in Swansea's first three Premier League games.
He has now represented England at Under-19 and Under-21 level and
it is thought that Caulker will be challenging for a place in the Tottenham squad next season.
Former Tottenham Youth Players
Recently departed England international, Peter Crouch, of course, started his career in the Tottenham Academy but had to leave White Hart Lane in order to get a chance to develop and gain experience. He came through the system a year behind Ledley King but was sold to Queen's Park Rangers in July, 2000 for £60,000. He later played for Portsmouth, Aston Villa, Southampton,
Liverpool and Portsmouth again before returning to Tottenham for a fee of £ 10 million in July, 2009. He has scored 22 goals in 42 appearances
for England. In his two seasons with Spurs his best goal scoring performances were in European games and he is best remembered for the goal he scored against Manchester City which secured the club's place in the Champions League at the end of his first season with the club. In all competitions he made 88 appearances, scoring 24 goals before his £10 million transfer to Stoke City.
Stephen Kelly is a Republic of Ireland international with Fulham who as part of his development with the Tottenham Academy had loan spells with Southend United, Queen's Park Rangers and Watford in 2003. He was highly regarded at each of those clubs and he made his Tottenham debut in 2003 but remained as understudy to Stephen Carr and Paul Stalteri. He made 37 appearances, scoring twice, before transferring to Birmingham City for a fee of £750,000 in the summer of 2006. He has subsequently played for Stoke City on loan and joined Fulham in 2009.
Luke Young who has just signed for QPR from Aston Villa made 76 League and Cup appearances for Tottenham following his debut in season 1998-99. He was sold to Charlton Athletic for £4 million pounds in the summer of 2001. He has also played for Middlesbrough and has made 7 appearances for England.
Mark Gower playing against Tottenham
Mark Gower, a midfielder, was with Spurs for five years but failed to break into the first team and left to join Barnet in January, 2001 for a small fee. He also played for Southend United for five seasons, returning to the Lane with them for Cup games in 2006-07 before joining Swansea City in 2008. He has made over 400 appearances in lower League football and is now a member of Swansea's squad having played 42 games for them in their promotion season. He has scored 60 goals in all competitions through his career.
Michael Kightly, a winger, had a season at Tottenham as a schoolboy but on being rejected by them has had to work his way back with Southend United and Gray's Athletic before joining Wolverhampton Wanderers on loan in November, 2006, signing permanently the following January. He helped Wolves in their failed promotion bid from the Championship that season and was attracting the attention of other clubs, including Tottenham. However, injury has hindered Kightly during his career but he was part of the Wolves squad that was promoted in 2009 and has appeared in the Premier League for them.
Wolves also have Jamie O'Hara in their squad, having signed him in the summer from Spurs for £5 million. His final years in youth football were with the Spurs Academy but he had been a product of Arsenal's youth system having spent five years with them.
Playing in the Lower Divisions
It is often assumed that young players who fail to make the grade at a club like Tottenham will go on to have a good career elsewhere in English football but from the evidence of the Premier League squads few have progressed to the highest level. It is, however, true that a number of young players who left Spurs without appearing in a competitive game for the senior team at White Hart Lane have had lengthy careers in the lower divisions of the Football League.
Mark Yeates came through the Spurs youth system and made his first team debut in the final game of 2004 against Wolves. However, he only made another two League appearances as a substitute and left White Hart Lane in 2007 after five years with the club. He joined Colchester United and in two seasons made 72 appearances which attracted the attention of Middlesbrough for whom he signed for £500,000 in July, 2009. A year later he went to Sheffield United where after finding himself surplus for the second time with the arrival of a new manager, he joined Watford last summer.
Speaking ahead of the FA Cup 4th Round tie between Watford and Spurs in January, 2012, Yeates commented on his time at Spurs,
" Tottenham was a big part of my life ...... so I've got a lot of fond memories. I've still got a lot of pals there. Martin Jol gave me a few run-outs, but Spurs are such a big club and at the time in every transfer window they were bringing in three or four new players. It was hard for the likes of myself, Dean Marney and Johnnie Jackson, we were on the fringes. Eventually we had to move on but there are no hard feelings."
Charlie Lee left Tottenham in 2007 and signed for Peterborough United where he played regularly in midfield and at full-back for four seasons. He played for Peterborough at White Hart Lane in the FA Cup 3rd Round in 2010 and joined Gillingham during the summer.
Kevin Maher was a young midfield player with Tottenham who left on a free transfer in January, 1998 to join Southend United where he spent ten seasons as a regular in the team making over 380 appearances, including the Cup games against Spurs in 2006-07. He joined Oldham for a season in 2008 and the following year joined Gillingham where he played for two seasons. He is now with Dagenham and Redbridge.
The Dagenham and Redbridge squad also includes their captain, Mark Arber, a defender, who left Spurs in 1998 to join Barnet for £75,000. He has had twelve seasons in League football making over 500 appearances for five different clubs, including Peterborough, Oldham and Stevenage Borough.
Peter Gain was a midfield player with Spurs at the end of 1999s who joined Lincoln City for a fee of £15,000 in March, 1999 after working his way through the youth system. He made 200 appearances in almost six years before moving to Peterborough where he played for three seasons and moved on to Dagenham and Redbridge in 2008.
Two players who are regulars with Stevenage are goalkeeper, Chris Day and defender Ronnie Henry. They failed to make the grade with Spurs but have furthered their careers away from the club.
Now aged 36, Chris Day sat on the bench for Spurs on many occasions as substitute goalkeeper but never got on to the pitch. He joined Crystal Palace for £225,000 in 1996 and has made over 300 appearances at eight League clubs including Queen's Park Rangers, Watford where he appeared in the Premier League, Lincoln City, Oldham, Millwall and Preston North End. His greatest achievement was helping Stevenage gain League status and promotion to League 1.
Ronnie Henry is the grandson of Spurs 'Double' winning full back, Ron Henry. He was released by Tottenham in November, 2003 but was unable to find a club. He eventually signed for Dublin City but was released due to shortage of funds. In January, 2004 he joined non-league Stevenage Borough, was made captain and led them into the Football League and further promotion. He was the first player to raise a competitive trophy at the new Wembley, captaining Stevenage to FA Trophy success.
Johnny Jackson left Spurs in 2006 after seven years, having made 20 appearances and scoring one goal. He joined Colchester United where he made over 100 appearance in three seasons before joining Notts County in 2009. The following summer he signed for his current club, Charlton Athletic.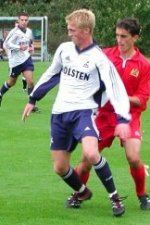 Lee Barnard
Lee Barnard made three substitute appearances for Tottenham before his transfer to Southend United. A regular scorer for the reserves, his opportunities were seriously limited at Spurs. After six years with the club and several spells out on loan, he moved to Roots Hall on a free transfer in January, 2008 and scored 37 goals in 75 appearances before a transfer to Southampton two years later for an undisclosed fee. He has scored 23 goals in 56 appearances and helped them to promotion to the Championship last year.
Rob Burch waited for five years for an opportunity to appear in goals for Tottenham after turning professional in 2002 having come through the youth scheme. He had periods on loan at various clubs but in July, 2007, having been released by Spurs, he signed for Sheffield Wednesday but played only three games for them. The following year he joined Lincoln City and made over 90 appearances in two seasons. In the summer of 2010 he went to Notts County on a free transfer after turning down a new contract with Lincoln.
Another Tottenham junior goalkeeper was Simon Brown who left the club in 1999 to join Colchester United. He spent five season there, making 140 appearances before moving to Scotland to play for Hibernian. Under fifty appearances in three seasons, saw him join Brentford for two years. This was followed by a season with Northampton Town and a move to non-league football with Cambridge United.
Charlie Daniels is a defender/midfielder who joined the Tottenham Academy from Norwich and progressed to the reserves but in January, 2009 he joined Leyton Orient and has over 100 appearances for the club.
A young youth player of whom much was expected was Phil Ifil. He made his League debut for Spurs in Jacques Santini's first game in 2004, played the next game but then made only one more appearance before leaving for Colchester United in January, 2008 for an undisclosed six-figure fee. He spent thirty months there making 40 appearances before making 13 appearances in a season with Dagenham and Redbridge. He is now in non-League football with Kettering Town.
Another Kettering signing this summer was Jamie Clapham who had progressed through the Tottenham youth system in the early 1990s. He made one substitute appearance for Spurs in 1997 but after being out on loan he joined Ipswich Town for £300,000 in March, 1998. There, he made over 200 appearances, including playing in European competition, in five years. He signed for Birmingham City in January, 2003 for a fee of £1,300,000 where he played for three years. He also played for Wolverhampton Wanderers, Leicester City, Notts County and Lincoln City. He joined Kettering Town during the summer but in a career stretching over seventeen years from his youth days, he has made over 400 appearances in League and Cup football.
Young Players Starting Out
More recently some former Academy players have taken their first tentative steps to re-establish their careers after getting over the disappointment of not making it with Spurs. Lee Butcher is a goalkeeper with Leyton Orient having joined in July, 2010. He had been with Norwich and Arsenal before joining the Spurs Academy in 2007 but after being out on loan he was released.
Troy Archibald-Henville is a young defender who came through the Academy with Tottenham and was an unused substitute on two occasions. However, after a loan spell with Exeter City he signed for them in January, 2010 and now has over 40 appearances for the club, playing either in defence or midfield.
Sam Cox can play in defence or midfield but after coming through the Academy teams and going out on loan he was released in June, 2010. He joined Barnet and has played for them in League Two.
Jacques Maghoma progressed through the Tottenham Academy but was released in June, 2009. After trials at Burton Albion and Hereford United, he agreed to sign for Burton where he has made over 80 appearances. An attacking midfield player, he is establishing himself in lower League football.
Long-term Problem at Tottenham
Even a famous footballing relation doesn't guarantee success as Ronnie Henry demonstrates and the recent Europa League game at Hearts brought forward another example - John Sutton, the younger brother of Chris Sutton who formed an important goal scoring partnership with Alan Shearer in Blackburn Rover's Premier League success in 1994-95. The younger Sutton started his football career at Tottenham but on leaving in 2003 he joined Raith Rovers. He has played for a number of Scottish clubs but ventures into English football were less successful and he returned to Motherwell and then signed for Hearts in the summer.
Going back through the years, even sons of famous fathers who have been associated with Tottenham have had to be satisfied with playing at a lower level than their fathers. Danny Greaves, son of Jimmy, left Spurs for Southend United in 1981 but made less than fifty appearances there. Ian Gilzean the son of Alan, left Tottenham for Dundee in 1992 and has played for many clubs around the British Isles. Pat Jennings Junior followed his father into goal but his playing career after Tottenham was limited to playing in Ireland.
Having joined the Tottenham Academy there is no guarantee that a young player is destined to a successful football career and even after signing a professional contract there is a long way to go before stepping out as a regular member of the first team. On the evidence provided by former graduates of the Tottenham Academy, only a very small proportion will make it in any form of senior professional League football in England. For all the money expended each year, Tottenham Hotspur Football Club sees a very small return on their investments but where the fault lies, it is hard to identify because there have been many managers, coaches and scouts involves in this process over many years but the results are very similar.
In the past twenty years the only Academy/youth players to have established themselves at the club are Nick Barmby, Sol Campbell, Ian Walker, Steven Clemence, Stephen Carr and Ledley King. Perhaps, some of the current 'hopefuls' with the Academy will change that situation in the coming years.