The Tottenham team which defeated Blackburn Rovers 2 - 1 at Ewood Park in the Premier League had former Rovers keeper, Brad Friedel in goals while the former Spurs goalkeeper, Paul Robinson, was in the Rovers team. A third goalkeeper to have played for both clubs is the Rovers' goalkeeping coach, Bobby Mimms.
'The Good, the Bad and the Old Man' of Goalkeepers
From a Tottenham perspective the 'bad' can only be Bobby Mimms who joined from Everton where he had been understudy to Neville Southall. Terry Venables signed him in February, 1988 for £325,000. However, his Tottenham career is remembered for a series of mistakes and as the blunders increased so his confidence diminished. He was sold on to Blackburn in December, 1990 for £250,000 having only played 37 League games for Spurs. During his time at Ewood Park he helped the club return to the 1st Division and establish themselves as a top club.
Paul Robinson
The 'good' is Paul Robinson who joined Tottenham from Leeds United for £1.5 million in 2004 and made himself a firm favourite with supporters with his excellent performances as Tottenham showed steady progress under Martin Jol. He established himself as 'England's Number 1' and looked set for a long career with Spurs. However, his form took a dip and with it, his confidence, so that he became less reliable for both club and country. He came under much scrutiny and lost his place at Tottenham during Juande Ramos' short time at the club. However, he returned to the team in time for the Carling Cup win over Chelsea. The following summer, Ramos signed Heurelho Gomes from PSV and Robinson realised that he needed to move on to further his career. He joined Blackburn in July, 2008 for £3.5 million where he has seen his form return as he has put in more confident and reliable performances. During his time with Spurs he played 137 League matches and scored one goal against Watford at White Hart Lane.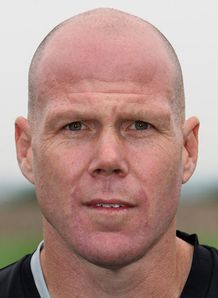 The 'old man' can only be Brad Friedel who at 40 years of age joined Spurs from Aston Villa in the summer on a free transfer. He has immediately become first choice goalkeeper and has brought a confidence and calm to the Tottenham defence, something which tends to be missing when Gomes is playing. In spite of conceding eight goals in his first two games, Friedel is showing that his age doesn't prevent him from turning in Premier league standard performances each week.
Friedel had been a reserve at Liverpool for three years before joining Blackburn in 2000, making 287 League appearances at Ewood Park. During his time at Ewood Park, he turned in a match winning performance in the League Cup Final of 2002 to deny Tottenham at Cardiff. He then joined Aston Villa in 2008 and played 114 League games. He made 82 appearances for the United States before retiring from international football in 2005.
Other Goalkeepers
A fourth goalkeeper to appear for both clubs is William Arthur Hughes, known as 'Archie', who made two League appearances for Tottenham in the late 1940s before moving to Ewood Park. He had been a 'guest' player at Spurs during the war, playing regularly in 1944 and was one of only two 'guest' players who were to sign permanently for the club at the end of the war.
A fifth goalkeeper who played at Ewood Park early in the 20th Century was 'Tiny' Joyce. He spent a year at the club and then returned to Millwall. After Tottenham had entered the Football League, he came to White Hart Lane from 1909 to 1915. He was known as 'Tiny' because of his size and played 73 games for Spurs. He scored a League goal for Tottenham against Bolton in 1914 and was the only goalkeeper to score a League goal for the club until Paul Robinson matched him in 2007.
Other Players
Mike England
was an experienced Welsh international centre-half when he joined
Tottenham from Blackburn for £95,000 in the summer of 1966. He quickly established himself in the middle of the Spurs defence and helped Tottenham to FA Cup victory over Chelsea the following May. He was a vital member of the successful teams of the early 1970s winning the League Cup and in Europe. He scored in the UEFA Cup Final 1st leg match against Feyenoord at White Hart Lane but after drawing at home Spurs lost the away leg in Holland. England was a threat when he moved forward for set-pieces and he played at centre forward on occasions. He developed a good understanding with Pat Jennings and Phil Beal who were the mainstay of the Tottenham defence for a period of over eight seasons.
Ossie Ardiles went on loan to Blackburn at the end of his Tottenham career for a period in a bid to help them win promotion from the 2nd Division. while he was there he met up with Steve Archibald who was also on loan at Ewood Park from Barcelona.
Tim Sherwood who is currently responsible for the Tottenham 'Development' squad was at Ewood park during their most successful period at the start of the Premier league era and captained them to the title in 1995. He joined Tottenham in 1999 but missed out on their Worthington Cup success a few weeks later. He was a member of the losing Tottenham team in 2002 when Brad Friedel's goalkeeping display brought success to his former club. With the current uncertainty at Ewood Park, Sherwood is someone who has recently been mentioned as a possible candidate for a Director of Football role at the club. He is also considered a possible replacement for Harry Redknapp at Tottenham if he should become manager of England next summer.
Noel Brotherston, a Northern Ireland international winger made one appearance for Spurs in 1976 before joining Blackburn in July, 1977.
Three forwards who played for both clubs in the early years of the last century were:
George Crompton, a centre forward played for both clubs in the early 1900s, making 9 League appearances for Spurs, with his only goal coming in an abandoned match.
Ted Harper had two spells at Blackburn. He joined Spurs from Sheffield Wednesday in 1929 before leaving for Preston in 1931. He rejoined Rovers two years later. Harper was a prolific goal scorer and set the Tottenham record of 36 goals in a season in 1931-32. Bobby Smith equalled it in the 1950s, Jimmy Greaves broke it in the 1960s and Clive Allen claimed the record in the 1980s. Harper's record could have been even greater had he not had to miss six of the final eight games through injury. In total he scored 83 goals for Tottenham in 78 appearances.
Ronnie Dix had a season at Blackburn in the early 1930s. He joined Tottenham in 1939 but the outbreak of war seriously interrupted his Spurs career. He played for the club for two years after the war but went to Reading in 1947.