Summer transfer speculation suggested that Gary Cahill was heading to White Hart Lane but Bolton and Tottenham were unable to reach agreement on the final day for transfers in August. Other deals have been completed between the two clubs but the most recent was almost twenty years ago.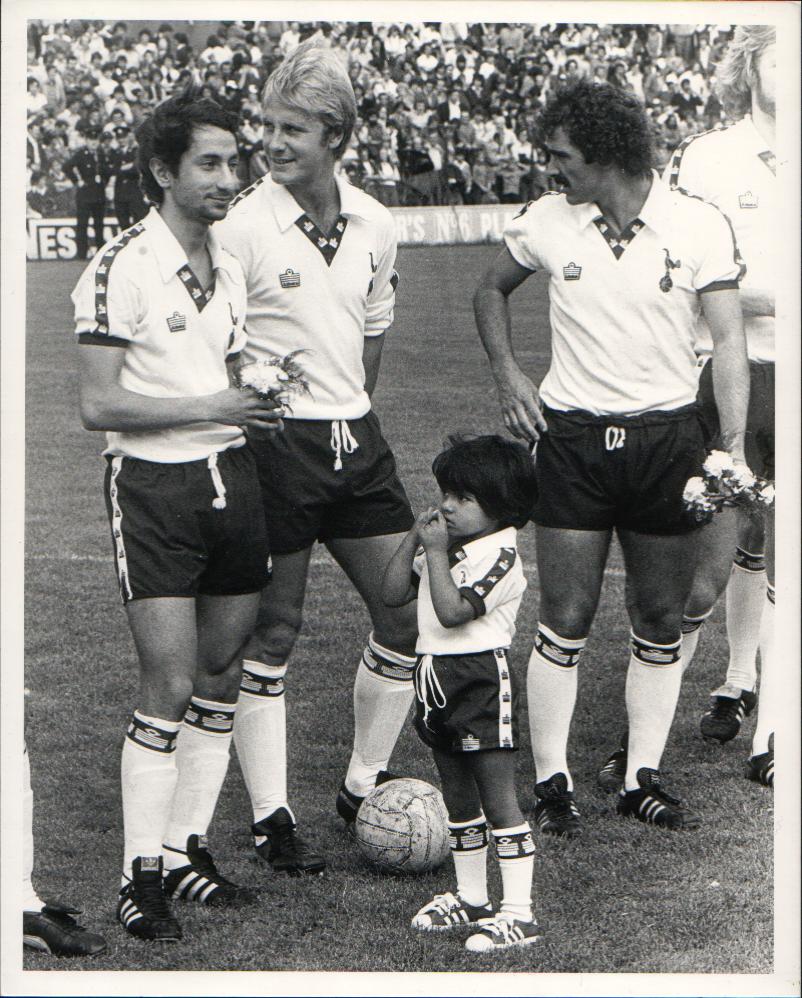 Don McAllister with Ardiles
In the preview of the of the game between
Spurs and Bolton
, I retold how
Gudni Bergsson
denied Spurs the opportunity to move into second place in the League in season December, 1995 by scoring an equalising goal as Bolton recovered from a two goal deficit to earn their first away point of the season. Bergsson joined Bolton from Spurs in March, 1995, helping them to promotion and in eight seasons he made over 300 League and Cup appearances. Bergsson joined Spurs on trial as an amateur in November, 1988. He was a law student and signed professional the following February, costing Spurs £100,000 to his former club, Valur. An Icelandic international he had his best spell at Spurs under Terry Venables although he missed out on the
1991 FA Cup Final
. He made 72 League appearances for Spurs, scoring twice. He played at full back or in central defence but found it difficult to gain a regular place in the team, often stepping in when others were injured. He was released by Spurs and considered returning to his law studies but Bolton stepped in and agreed a deal with Spurs for £65,000.
Central defender,
Chris Fairclough
had two seasons with Spurs after joining from Nottingham Forest in 1987. He then went to Leeds United and after six years at Elland Road he moved to Bolton.
Ian Moores
joined Tottenham from Stoke in August, 1976 as Spurs embarked on a season which was to end in relegation. He was a tall, gangling striker - a smaller Peter Crouch of his day. He cost £75,000 and scored in his first two games but then as the team struggled he proved not to be the answer to Spurs' lack of goals. The highlight of his Spurs' career was his hat-trick against Bristol Rovers when Spurs won 9 - 0 in the 2nd Division game. Even then he didn't grab the headlines as his strike partner, debutant Colin Lee, scored four. In October, 1978 he joined Orient for £55,000 having scored 8 goals in 32 League and Cup appearances. He joined Bolton in 1982 and spent just one season there. Sadly, Ian Moores passed away in 1998 at the age of 43 following illness.
Neil McNab
signed for Spurs in February, 1974 for £40,000 from Morton, having already appeared in the Scottish League at the age of fifteen. He was 16 years of age when he signed and made his debut the following March when he came on as a substitute against Chelsea. A hard working, skilful midfielder he established himself in the team in 1977-78 when he was an ever present as Spurs won promotion from the 2nd Division after only one season in the lower league. The arrival of Ossie Ardiles and Ricky Villa at the start of the next season saw him lose his place in the team, his last appearance for Spurs being the seven goal defeat at Anfield. The following November he moved to Bolton for £250,000 but after two seasons moved to Brighton. He joined Manchester City in 1983 where he played the best football of his career.
Don McAllister
had six seasons with his home club, Bolton, where he made over 150 League appearances. He joined Spurs in February, 1975 and helped them in a battle against relegation. Signed by Terry Neill for £80,000 he was a hard tackling, uncompromising central defender. A versatile player, he covered in central defence and at full back as Spurs won promotion and re-established themselves in the top flight. For two seasons after promotion he played regularly but a serious injury cost him his place and he joined Charlton in August,1981. He made over 200 League and Cup appearances during his time at White Hart Lane.
Five other players also appeared for both Spurs and Bolton but they are of an older generation.
Frank Drabble
played two games in goal for Spurs in season 1909-10, their first ever season in the 1st Division. His debut at Preston was abandoned with the score at 0 - 0 after fifty minutes due to rain. He then played in the next game at home to Notts County but Spurs lost 1 - 3 and Drabble lost his place in the team. With the signing of two additional goalkeepers, Drabble slipped to fourth choice and at the end of the season joined Nottingham Forest. He joined Bolton in 1919 and had two season with them.
Gordon Jones
was a half-back who had three seasons with Bolton from 1909. He joined Spurs in 1912 and had one year at the club, making eight League appearances.
Bill Hinton
had four years with Bolton but only made 36 appearances for them. He joined Spurs in June, 1924 and made his debut in goal against his former club at the start of following season, keeping a clean sheet as Spurs won 3 - 0. He was an ever present for Spurs that year but only made another eighteen League and Cup appearances due to illness and was given a free transfer in 1927.
George Goldsmith
was a full back with Spurs but only played one league game in September, 1934 after joining from Hull City the previous summer. At the end of that season he joined Bolton where he spent two years.
George Hunt
spent seven years at White Hart Lane. He joined in 1930 after a season at Chesterfield. He was a goal scoring centre-forward and has a record of 151 goals for Tottenham in 205 senior appearances. After a difficult start with Spurs when he found it hard to replace goalscorer supreme, Ted Harper, given time by his manager, Hunt proved his worth. He helped the team to promotion in 1933 and won three England caps. After seven seasons with Spurs he moved to Arsenal but only stayed there for six months before moving to Bolton. He stayed at Bolton for ten years and joined Sheffield Wednesday in 1946. He became a coach at Bolton on his retirement from playing and remained with the club for almost twenty years.