Jimmy Robertson
Who has scored for both Spurs and Arsenal in a North London derby?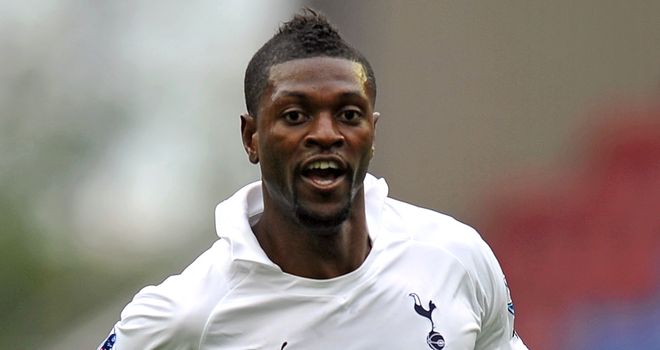 Emmanuel Adebayo
Until Sunday this question had only one answer but Emmanuel Adebayor's penalty against Arsenal meant that he joined Jimmy Robertson as only the second player to score a goal for both Tottenham and Arsenal in a North London derby.
Through Spurs history there are only a small number of players who have played for both clubs and transfers between the two North London clubs are rare.
However, until Sunday, only one player has managed to score for both clubs in a North London derby and it was Jimmy Robertson.
His goal for Spurs against Arsenal was in the 3-1 home win in October, 1964, the other goals scored by Jimmy Greaves and Frank Saul.
He was transferred to Arsenal in October, 1968, in exchange for David Jenkins - not one of manager Bill Nicholson's best transfer deals. Jenkins made only a few appearances for Spurs while Robertson played for Arsenal for two seasons before moving on to Ipswich Town and Stoke City.
His goal for Arsenal against Spurs was at Highbury in September, 1969 when Spurs won 3-2 with goals from Alan Gilzean, John Pratt and Martin Chivers.
Last Sunday, Emmanuel Adebayor's goal, on his twenty eighth birthday, from the penalty spot after a foul on Gareth Bale gave Spurs a two goal lead after 34 minutes but unfortunately Arsenal were level before the interval and over ran Spurs in the second half to
record a 5 - 2 victory
. Spurs remained in third position in the Premier League while Arsenal moved above Chelsea on goal difference into fourth spot, seven points behind Spurs.
Adebayor, with Tottenham on a season long loan deal from Manchester City had spent three years with Arsenal before joining Manchester City in 2009. He made over 100 League appearances for the club, scoring 46 goals. He spent the second half of last season in Spain at Real Madrid, on loan.
Adebayor made a habit of scoring against Spurs for Arsenal being their joint top scorer with eight goals. He even scored twice against Spurs for Real Madrid in last season's Champions League quarter-final tie in Madrid which Spurs lost 0 - 4.