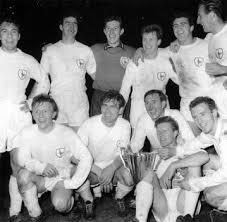 On this Day in 1963 Tottenham Hotspur became the 1st British club to win a European Trophy.
15th May, 1963
Atletico Madrid 1 Spurs 5
EUROPEAN CUP WINNERS' CUP FINAL in Rotterdam.
Spurs produced their best ever display in a Final to overcome difficult opponents who were the holders of the trophy.
Spurs went into the game without their inspiration, Dave Mackay who was injured. Manager, Bill Nicholson was reportedly very worried about the Spaniards and built them up but Danny Blanchflower reminded the players of their own success and capabilities.
Jimmy Greaves gave Spurs an early lead and John White added a second. Then Atletico came back at Spurs putting them under intense pressure, eventually conceding a penalty but Terry Dyson, playing the game of his life, increased Spurs lead with a long cross that sailed over the keeper's head. Jimmy Greaves scored his second and Terry Dyson did likewise to complete a glorious European night for Spurs -
the first British club to win a European trophy
.
All of Tottenham had moved to Holland for that game and they celebrated long into the night.
Team: Brown; Baker, Henry; Blanchflower(Captain), Norman, Marchi; Jones, White, Smith, Greaves, Dyson.