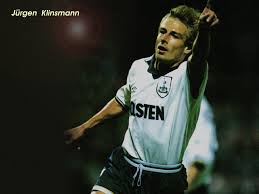 2nd May, 1998
Wimbledon 2 Spurs 6
Survival and what a way to do it! The penultimate game of the season and Spurs were not assured of Premiership football for the next season and after a long and difficult season Spurs were still fighting to retain their place in the Premiership.
Christian Gross' appointment in place of Gerry Francis, the previous November, had not been successful and there was discontent among the players over his style of management. The return of Jurgen Klinsmann
(Pic: Klinsmann - 4 vital goals)
in December had not brought about the hoped for revitalisation of the team and trying to gain full fitness, he had struggled to make a major impact in his second spell at White Hart Lane.
However, Klinsmann rectified that situation in just one game. Spurs had taken an early lead through Les Ferdinand but were a goal behind as half time approached, until Klinsmann equalised. In the second half Klinsmann scored another three goals inside five minutes and then set up the sixth goal for Saib. Assisted by David Ginola who ran the Wimbledon defence ragged, Spurs were guaranteed another year in the Premiership.
2nd May, 1970
Spurs 1 Arsenal 0
The final game of the season, Spurs' previous game had been in mid-April but a goal scored by Alan Gilzean sent the fans off in good spirits for the summer break, looking forward to better things to come.
2nd May, 1992
Manchester United 3 Spurs 1
Spurs' farewell to Gary Lineker took place at Old Trafford and couldn't pass without a final goal from the striker. Lineker had announced that he would be leaving to play football in Japan and supporters of both clubs gave him a rapturous farewell. Lineker's headed goal was only a consolation as United were already three ahead.
In three seasons at White Hart Lane, Lineker scored 80 goals in 139 appearances for Spurs.
2nd April, 1996
Leeds United 1 Spurs 3
As the season reached its conclusion and the Euroopean Championships approached, Darren Anderton had a race against time to prove his fitness to be a member of the England squad. His two goals and overall performance assisted him in claiming one of those places in Terry Venables' England squad for the championships to take place in England during the summer. Anderton had spent most of that season injured and played only 6 League games ( +2 sub)and 1 Cup game for Spurs.
The other goal was scored by Chris Armstrong.