Manchester United 3 Tottenham Hotspur 0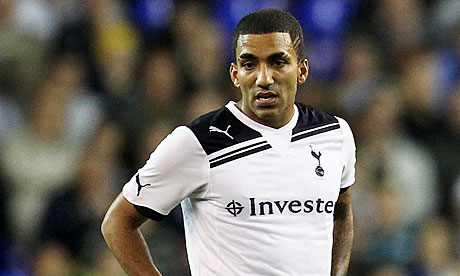 Aaron Lennon
Well, the answer to my last question
in my previous blog is a resounding '
NO
'. The date of 22nd August was not to be added to these few occasions when Spurs won at Old Trafford.
For an hour it was looking quite positive. In the first half Spurs had withstood United's early dominance and had then started to make an impression on the game. Satisfied at half-time but after that United started to build up a period of sustained pressure which reduced Spurs' forward forays to almost nothing. However, Aaron Lennon had one great opportunity to create an opening for Spurs when he got past the full back to the line but as he moved towards goal, with both Gareth Bale and Rafael Van der Vaart waiting for a pass, he froze and did nothing. He lost the ball, at that moment he was like a rabbit transfixed in the headlights of a car, and Spurs best chance was gone to the very evident displeasure of Van der Vaart on the pitch and his manager off it.
In spite of their possession and pressure United were not causing any real problems to the Spurs defence where Brad Friedel was making his Tottenham debut at the age of forty, Tottenham's oldest player since the war.
Unfortunately, it was following a poor United pass that they scored their goal. Rooney saw his pass cut out by Benoit Assou-Ekotto but his poor clearance gifted the ball to Cleverly and from his cross Wellbeck headed the opening goal. Game over.
The goal gave United confidence and they poured forward in search of a second. Tottenham faded and the inevitable happened. It was only after conceding the second goal that Spurs managed to mount a dangerous strike on the United goal. From a cross, challenged by substitute Roman Pavlyuchenko in the air, United's young goalkeeper flapped at it and the ball fell to Jermain Defoe who volley crashed against the woodwork. That was the end as far as Spurs were concerned and Rooney scored a third towards the end.
Team:
Friedel; Walker (Corluka), Dawson, Kaboul, Assou-Ekotto; Lennon, Livermore (Huddlestone), Kranjcar (Pavlyuchenko), Bale, Van der Vaart; Defoe.
Horrendous Record at Old Trafford
Tottenham went into the game hoping to overturn years of history surrounding their games against United but in the end had to accept they were second best and would have to wait for another year to end their losing sequence of games at Old Trafford.
P 22 W 0 D 4 L 18 Goals For 9 Ag 46
Tottenham have now conceded 13 goals in their last four League visits to Old Trafford and 7 in three Cup games there since 2008.
Pointless Tactics
Tottenham had a stated intention of targeting United's young goalkeeper who has made mistakes in his first two games for the club. A valid idea which was an obvious tactic to anyone prior to the game but this was taken to such an extent that Van der Vaart was shooting on sight from ridiculous distances which wasn't going to trouble any keeper and also saw him, along with Bale and defoe shooting or trying to shoot when other were in a better goalscoring position. This selfishness cost the team dearly when a pass could have been more productive and played into United's hands and actually took the pressure off the keeper who was dealing comfortably with the shots. It was only after they went two goals down did they get any joy against the keeper when challenged for the cross which led to Defoe's shot against the woodwork. From free-kicks and corners Spurs should have tried to put pressure on the keeper to unsettle him with Michael Dawson and Younes Kaboul to aim at but instead we had a series of ineffective shots which caused no alarm to United's defence.
For an hour Tottenham were able to compete against United but throughout the second half both Bale and Lennon were mostly anonymous. For Spurs to have any chance of progressing in such games they need both these players playing their part in a 'big' performance. Similarly with Van der Vaart he needs to play more as a team player and not constantly looking to score an 'out of this world' goal - you don't get any more points for such a strike, a tap-in will still bring three points.
Friedel looked comfortable in goal as you would expect from a player of his experience. He did everything efficiently and effectively and there were no heart stopping moments of which Gomes is prone.
Walker was comfortable at full back but was taken ill at half-time. Corluka played as he does, coping admirably with Young's pace.
Dawson and Koboul were comfortable in central defence for an hour but then as the team became stretched so they lost some of their composure and found it more difficult to pick up their men as United came forward in numbers against a tiring central midfield.
Jake Livermore had a comfortable debut in difficult circumstances and combined well with Kranjcar who did well until United increased the pressure and gained some movement and momentum. They got pulled out of position as time went on and this enables United to prosper. Spurs missed more defensive central midfield player like Sandro or Palacios.

Lennon and Bale worked hard especially in the first half but faded after United became more dominant and didn't do enough to keep the United full backs in defence allowing them time to push forward in support of their midfield. Both should be contributing more in big games like this and were wasteful when in possession either running into trouble or wasting crosses or shots. Disappointing that they didn't make a more meaningful contribution in the second half.
Van der Vaart worked tirelessly in trying to create something from just behind the striker. He came deep to collect the ball and plyed across the pitch. He looks much fitter and lasted the whole game. In trying to score a spectacular goal he can forget that there are others in the team who might be in abetter position. how to harness his talent and skill to the team is Harry Redknap's difficulty.
Defoe worked hard but never got behind the defence with a clear chance on goal. The best came from the cross but when he was running at goal, like Van der Vaart, he had only one thought - a shot on goal but he didn't trouble the goalkeeper.
Tottenham lost but the Manchester United team are not as good as commentators are trying to make out and a more robust team (not the 'Tottenham way') would have caused them problems.
Following this defeat, hopefully, the Chairman will see the need for some new signings in appropriate positions (ie. striker, central midfield and defence) to help Spurs close the gap on the top teams. Otherwise it could be similar to last year with an unfruitful attempt to get into a Champions League position and other top players will decide they need to find pastures new. If Luka Modric does go to Clhelsea this August, it will be even more difficult to keep Bale, Van der Vaart, Lennon, Sandro and others in January and next summer. The star players may go but the Huttons and Bentleys of the squad might still be there.
The next few days are important days for Tottenham Hotspur - it could determine the season that lies ahead.