Spurs came back from conceding two goals in three minutes in the second half to draw level within six and in the second minute of added time were inches away from winning the game only for City to be awarded a match winning penalty with fifteen seconds remaining. So nearly a great day for Spurs - a performance to be proud of but ultimately they are now eight points behind City in the title race.
City Make Spurs Pay the Penalty
Manchester City 3 Tottenham Hotspur 2
Scorers: Nasri, Lescott, Balotelli (p) Defoe, Bale
Team: Friedel; Walker, Kaboul, King, Assou-Ekotto; Lennon (Pienaar), Parker, Modric, Bale; Van der Vaart (Livermore), Defoe Subs: (unused) Cudicini, Bassong, Dawson, Kranjcar, Pavlyuchenko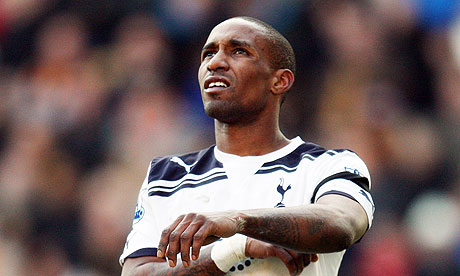 Jermain Defoe
With the match in added time my prediction that Spurs could win against Manchester City was within inches of becoming a reality only for Jermain Defoe to knock the ball wide of the far post as he stretched to reach a cross from Gareth Bale. Then with fifteen seconds remaining Ledley King gave away Tottenham's first penalty of the season for City to win the game and increase their lead at the top of the Premier League.
Spurs had shown remarkable powers of recovery to come back from the shock of conceding two quick goals with half an hour remaining but had drawn level within six minutes and from then on looked comfortable and capable of taking all three points.
Spurs had started the game with King in central defence and Defoe replacing the ineligible Emmanuel Adebayor and throughout the first half contained City who were defending a 100% home record this season in the Premier League, having conceded only four goals. The first half was fairly even with City quick to confront any Tottenham forward movement while Spurs tended to allow City to run with the ball before cutting out the danger as they closed in on the penalty area. Brad Friedel was quick to come out to meet any dangerous through ball and in this game was taking more responsibility for meeting crosses and corners - punching them clear to relieve the danger. City had spells of possession but Spurs stood up to the threat and with patience were dangerous through the pace of Bale, Aaron Lennon and Kyle Walker. Defoe worked hard up front on his own but the team did miss the ability of Adebayor to compete for high balls and hold up possession until support arrived.
At the interval Spurs would have been the happier of the two teams although their attacking threat had been minimal but they had coped with any threat City had created. The first fifteen minutes of the second progressed in a similar fashion but then the game came to life just before the hour. On fifty six minutes City had possession just inside the Spurs half and this time were given too much time to pick out a pass as Silva found Nasri who had come in from the wing ahead of Walker to hammer a shot past Friedel.
City suddenly came to life and three minutes later from a corner they reacted quicker to a ball that had been flicked on with Lescott being stronger than Scott Parker as he bundled the ball over the line. Suddenly, memories of the game at White Hart Lane in August were resurfacing but a minute later Spurs were back in the game.
Younes Kaboul played a high ball forward out of defence and Savic misdirected his defensive header allowing Defoe to run on into the area and as Hart came out he played it past him to score from a tight angle.
Spurs belief had been restored and they were level within five minutes as Lennon held up the ball on the left and played it across for Bale to strike a beautiful curved shot past Hart from twenty yards. In five minutes Spurs had increased the number of goals City have conceded at home in ten games this season by 50%. It was now time for City to have doubts.
The game continued from end to end but neither goalkeeper had a save to make and a draw looked the most likely outcome until those final agonising moments in added time.
Spurs had been keeping possession well and in the second minute of added time hassled City into a mistake which allowed Bale to run at the defence with Defoe free to his right. Bale put in a cross which beat the defender and goalkeeper but as Defoe stretched to reach it at the far post he could only knock it just outside the goal. Spurs had missed a golden opportunity to take all three points.
The match was drawing to a close but with fifteen seconds left City got the ball forward to Balotelli in the penalty area and as King challenged for the ball both players went down. The referee could only award a penalty - the first Spurs have conceded this season. Balotelli scored and City had the three points.
What an unfortunate way to lose - especially after being so close to winning. What an unfortunate time to concede the first penalty of the season - especially for Ledley King who had played so well in his first game back after injury and brings such authority to the Spurs defence.
A disappointing result but Spurs know that they can compete with the best and there will be many more good days through the rest of the season.