Paul Robinson shows Strength of Character for Spurs
[from: Logan Holmes Column on www.topspurs.com]
Paul Robinson
has shown his strength of character over the past ten days. He has stepped up from the bitter disappointment of the England game in Croatia and the 'bobble fluke' goal for which he has been pilloried by both the media and opposition supporters.
His performances for Spurs in the subsequent games have shown that he has been able to cope with the pressure that was generated by that incident. Even when facing Villa fans at Villa Park last weekend he showed no weakness and dealt with the situation in a composed and professional way. He was then faced with the wrath and frenzy of the Turkish fans in Istanbul as Spurs dealt comfortably with what was regarded as a very tricky tie in the UEFA Cup group stages. Again he played very confidently and made an excellent double save towards the end of the first half as Spurs looked to hold on to the advantage gained with Ghaly's first goal for the club.
Faced with two such difficult games, a goalkeeper low on confidence or doubting his ability could well have crumbled under the pressure but Robinson showed no such flaws in his character and his performances could not be faulted. His rehabilitation has continued as he coped with anything West Ham created, making an excellent save to ensure another clean sheet and a one goal win.
Paul Robinson has come in for criticism in the past months and while he may not have been at the very top of his form, there have been times when he has been criticised unfairly. During the World Cup, his every move was scrutinised for fault and weakness and on occasions he was blamed for errors when others were at fault and left their goalkeeper exposed. John Terry was clearly at fault against Ecuador but Robinson took much of the flack, while against Sweden, the two goals conceded were much due to poor defensive play in front of Robinson and the uncertainty of the defenders rather than the goalkeeper's fault. Having played in the five World Cup games, Robinson conceded only two goals, excluding the lottery of the penalty shoot-out against Portugal. A goalkeeper's performances can be linked to his confidence in the central defenders in front of him and perhaps the prone to make mistakes trio of 'top' English central defenders - Terry, Ferdinand and Campbell – make life a little more uncomfortable for England's number 1. For Spurs, with Ledley King and Michael Dawson re-united and developing a solid partnership in central defence, Robinson's confidence should be able to grow and he again will have the opportunity to prove the doubters wrong.
Goalkeepers are often remembered for their mistakes. Peter Bonetti has never been allowed to forget his mistake in the 1970 World Cup against West Germany, Ray Clemence suffered the embarrassment of conceding a soft goal for England against Scotland at Hampden Park and David Seaman has his trio of long range blunders to live down – the most enjoyable for Spurs'fans being the 'Nayim from the halfway line' goal.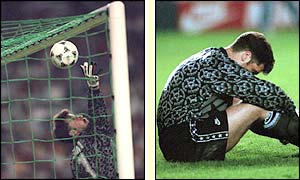 (Pic: Seamen is beaten by Nayim)
David James, despite his form for Portsmouth this season, has retained the name 'Calamity' while Fabien Barthez has made a career of making blunders and eccentric behaviour for both club and country but has still managed to win the top honours at European and World level. Mistakes will occur but it's how the goalkeeper responds to the set-back that is critical.
Ian Walker received endless criticism for the goal he conceded at his near post against Italy at Wembley in the World Cup qualifier in 1997, although it took a slight deflection. It was only his third appearance for his country and his first start for England. His international career never had a chance to recover and his form at club level also suffered. Paul Robinson has shown that he is made of sterner stuff and has the mental capacity to cope with the pressure and his great composure to the criticism and mockery handed out by the media and supporters is a very appropriate response. He has recovered from difficult situations before – suffering relegation with Leeds United and a six game losing sequence early in his first season at White Hart Lane – and he is showing that he can do so again.
Quite simply, Paul Robinson is the best goalkeeper that Spurs have had for some considerable time and he is currently the best English goalkeeper and is rightfully holding on to the England position. Some might be there to challenge him but at present they still have work to do to claim the shirt from the man in possession.
As goalkeepers improve with age and experience, Robinson is young enough to have the opportunity to show that he can be up there among the very best who have played for both club and country.
Paul Robinson is showing everyone that he has moved on from one of the pitfalls of being a goalkeeper and is concentrating on playing well for Spurs and England.