Tottenham's rear-guard action in the second half, inspired by Brad Friedel, denied Fulham and so maintained their unbeaten run
to move level on points with Chelsea in fifth place with one match in hand. Spurs scored two first half goals through Gareth Bale and Aaron Lennon. A late strike from substutute Jermain Defoe confirmed the victory and added to Fulham's anguish.
Tottenham's Smash and Grab Raid at the Cottage
Fulham 1 Tottenham Hotspur 3
Scorers: Kaboul (og) Bale, Lennon, Defoe
Team: Friedel; Walker, Kaboul, King, Assou-Ekotto; Lennon (Sandro), Parker, Modric, Bale; Van der Vaart (Defoe), Adebayor. Subs: (unused) Cudicini, Bassong, Corluka, Livermore, Pienaar.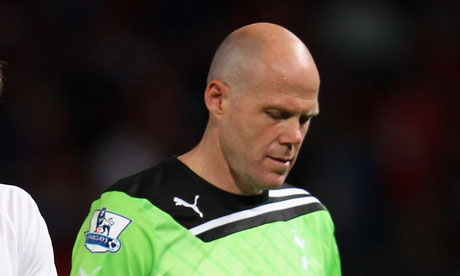 Brad Friedel - 'Man of the Match'
Tottenham took the three points to maintain their eight game unbeaten run in the Premier League but after holding a two goal interval lead, it required all the expertise of 40 year old, Brad Friedel, to ensure they only conceded one goal as Fulham's second half onslaught threatened to grab at least a point and possibly all three.
It was an unchanged team from last week's win over QPR that Kevin Bond and Joe Jordan sent out, as they continued in charge as Harry Redknapp recuperates following his heart operation. Vedran Corluka and Steven Pienaar, recovered from injury were among the substitutes.
In the early stages Fulham worked hard, preventing Tottenham from playing at their best and although they had the lion's share of possession, the home side didn't cause Spurs' defence too many problems. From a corner after two minutes, Spurs had an early indication of the danger Fulham could be from set-pieces as Friedel had to react quickly to save a header at his near post. After ten minutes, Kyle Walker was released on the right, he got to the goal line and pulled the ball back to Lennon whose cross was pushed out to Gareth Bale on the left. His powerful goal bound shot deflected off the knee of Chris Baird.
The game continued in a similar pattern with Spurs coping with the limited threat caused by Fulham who caused Friedel few problems. Spurs played controlled, passing football without ever reaching the levels achieved last week although on occasions they attacked at pace which caused Fulham concern. Then on 45 minutes, as added time was being announced, Lennon, now on the left, ran at Baird, turning him right and left, and hammered a powerful left foot shot into the corner of the net to double Spurs' lead.
As with last week, a two goal advantage was looking comfortable for Spurs but Martin Jol obviously had a few harsh words with his players at half-time. They were much more forceful and dominant with their possession in the second half and put immense pressure on the Tottenham defence at corners and set-pieces and with the use of the high ball. Where, in the first period, Spurs had been able to play the ball out from defence, they had to play it long but it came straight back. Fulham won a series of corners and eventually, after giving Spurs a few scares, they scored. On 57 minutes, King rose to clear a corner, but his header struck the back of Younes Kaboul and into the net. This encouraged Fulham so they piled on even more pressure.
Tottenham's midfield was being over-run, putting the defence under continuous pressure. Jermain Defoe replaced Rafael Van der Vaart, so he missed the opportunity to score for a sixth consecutive League match. This failed to lift the pressure and with fifteen minutes remaining Sandro was introduced in place of Lennon.
Through the second half Friedel was called upon to make a number of vital saves, tipping over from a corner, saving from Dempsey, saving a long range effort from Baird and then in the final minutes it was all hands on deck as players threw themselves in front of the ball to block goal bound shots. Friedel saved, King put in a crucial tackle, Luka Modric cleared off the line, Parker blocked a shot, Walker blocked the ball in an old-fashioned goalmouth scramble and was fortunate not to concede a penalty as he handled the ball in the ruck. It was do or die for both sides, Parker could have had a penalty for a push in one of Spurs' few second half forays near the Fulham penalty area.
Then, to add salt to the wound, in the last minute of added time Bale broke on the left and headed for the corner flag. He won a throw, took it quickly to Emmanuel Adebayor on the goal line who played it back for Defoe to score a third - a smash and grab raid from Tottenham.
Brad Friedel was the Man of the Match - Spurs were fortunate but they managed to hold out against the threat posed by the former Tottenham manager and players - Martin Jol, Bobby Zamora, Danny Murphy and Stephen Kelly - they gave their all but Spurs held on and go into the international break on a high. Next match is against Aston Villa at White Hart Lane on Monday, 21st November at 8.05 pm. I can't wait as I'll be there, my first Premier League game of the season.
Harry Redknapp has been told by his doctors to take five or six weeks to recover from his heart operation. If he was watching the second half on television, he might need longer. I, who have no heart problems, could feel my blood pressure raised after enduring the pounding Fulham gave Spurs in the second half. Tottenham survived and so did I and I wish Harry a speedy recovery.