The 1961 FA Cup Final at Wembley against Leicester City was the most important game in the club's history. Victory would bring down the curtain on the club's most successful season ever with the completion of the League and FA Cup 'Double'. It brought Spurs another 'first' - the first team to win that accolade in the 20th century.
1961 FA Cup Final
Leicester City 0 Tottenham Hotspur 2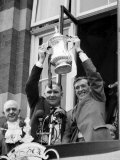 Bill Nicholson & Danny Blanchflower
No team had won the 'Double' in the 20th Century and it was regarded as an impossible task among commentators of that time. The achievement had not been completed since the early days of the competitions - by Preston North End in 1889 and Aston Villa eight years later. In those early days teams played a greatly reduced number of matches to achieve their goal - Preston had to play a total of twenty
seven games while Villa had an additional eight League games.
However, undeterred by such views, Tottenham captain, Danny Blanchflower, made a confident prediction to his Chairman prior to the commencement of the 1960 - 61 season, that the team would win the 'double' in the season ahead. Danny was always known for his 'gift of the gab' with a good story to tell but in this case he later confirmed that he truely believed it was possible. The team then proceeded to win their first eleven matches, went undefeated for sixteen games until mid-November and by the start of the FA Cup in January, with 25 games played, Spurs were top of the 1st Division with a 10 point lead ahead of Wolverhampton Wanderers.
Road to Wembley
3rd Round
v Charlton Athletic (h) Won 3 - 2
Allen (2), Dyson
Charlton from the old 2nd Division were expected to be easy prey for all conquering Tottenham but they came so close to causing a Cup up-set and for a long period it seemed that a replay would be on the cards. The visitors took the game to Spurs in the early stages but a pass from Danny Blanchflower set up Les Allen to put Spurs ahead after six minutes.
Charlton continued their endeavour and were heartened as Tottenham missed a number of chances to increase their lead. However, with less than half an hour gone, another Blanchflower pass enabled Allen to score his second. Almost immediately, Charlton pulled a goal back, only for Terry Dyson to restore the two goal advantage. A minute into the second half Charlton scored a second and suddenly Spurs were up against it as the visitors increased the pressure with Bill Brown coming to the rescue on a number of occasions. Tottenham held out, relieved to have survived from a much more difficult game than they had ever anticipated.
4th Round
v Crewe Alexandra (h) Won 5 - 1
Mackay, Jones, Smith, Allen, Dyson
A year previously the two clubs had met in the same round of the competition with Tottenham triumphing 13 - 2 in a replay at White Hart Lane after a 2 - 2 draw at Crewe's Gresty Road ground. If Crewe, from the 4th Division, had been hoping for a good start to avoid another humiliation, they were to be disappointed as Dyson headed Spurs ahead from a corner after four minutes. The Crewe goalkeeper, Williamson, was the hero of the day as he restricted Tottenham to five goals. After twenty two minutes, Bobby Smith added a second but three minutes later, in a rare attack, Crewe scored their only goal. Three minutes later Dave Mackay scored a third from a corner and in the second half, Cliff Jones and Allen completed the scoring, Allen having to settle for a solitary goal rather than the five he managed a year previously.
5th Round
v Aston Villa (a) Won 2 - 0
Jones, Opp. o.g.
A more difficult examination of Tottenham's Cup winning credentials was expected from this tie against 1st Division opposition. A week earlier the two clubs had met in the League at the same venue with Smith and Dyson scoring in a 2 - 1 victory. Jones was the master on this occasion. Having failed to stop Spurs a week earlier with strength and endeavour, Villa tried to use finesse and pure football but with the same result. Tottenham took the lead after seventeen minutes through an own goal when the Villa full back diverted a Jones shot into the net. Spurs were on top, with Brown making his first meaningful save just before half-time. Then, almost immediately Tottenham responded and scored their second from Jones, following another flowing, passing movement. Match over, Spurs strolled through the second half with Villa unable to unsettle them.
6th Round
v Sunderland (a) Draw 1 - 1
Jones
This was undoubtedly Tottenham's most difficult match in the Cup campaign. Second Division, Sunderland who had already defeated Arsenal, Liverpool and Norwich City in earlier rounds were determined to show that they could match their more illustrious opponents and in the end Spurs were relieved to return to London with the opportunity to settle matters in a replay. Jones headed Tottenham ahead with a soft goal from a corner and then the game deteriorated with some quite dull football. Before the interval, Smith's shot hit the post after he had rounded the goalkeeper but in the second half the match changed totally. Sunderland, roared on by the home crowd, levelled after four minutes when a speculative shot was deflected past Brown. Sunderland were energized and Tottenham were reduced to pulling everyone back to defend with only the occasional foray forward. Tottenham had paid the price for being too casual in the first half and had to battle for the final forty minutes to keep their dream of the 'Double' alive.
6th Round (Replay)
v Sunderland (h) Won 5 - 0
Mackay, Smith, Allen, Dyson (2)
The Tottenham players had learned their lesson from the first game four days earlier and they weren't going to get caught out again. With the gates locked half an hour before kick-off and thousands still outside unable to get in, Sunderland started bravely but with almost half an hour played, Spurs scored through Allen. Five minutes later Smith scored after Jones' shot had been parried by the goalkeeper and on half-time, John White and Jones set up Dyson for the third. In the second half Spurs added further goals with a header from Dyson and a fifth from Mackay.
Semi-Final
v Burnley
(at Villa Park)
Won 3 - 0
Jones, Smith (2)
Villa Park was not Spurs' favourite ground for FA Cup semi-finals, having lost the last three they had played there in 1948, 1953 and 1956. At the fourth attempt, it was the 'Double' team elect that was to lay the ghost of Villa Park.
Drawn to play defending League champions Burnley a tight game was expected as Burnley had recovered from a four goal deficit to earn a draw in the League game at White Hart Lane earlier in the season.
The semi-final tie
saw Spurs take the lead after half an hour when a defensive mistake allowed Smith through on goal. Burnley rallied and in the minutes before and after the interval Spurs survived a number of dangerous attacks. Then with forty eight minutes gone Spurs went further ahead when Smith scored his second. This deflated Burnley and Jones added the third near the end after good work from White and Dyson. Spurs were on their way to Wembley for the very first time where they would find Leicester City attempting to prevent them completing an historic 'Double.' It would be
Spurs third FA Cup Final
but their first since 1921.
Final
v Leicester City (at Wembley) Won 2 - 0
Smith, Dyson
Many teams had failed at the final step in their pursuit of
the 'Double'
and Tottenham were determined not to fall in to that category. They had won the League a few weeks earlier but their form had taken a dip and they had missed out on setting a new record for the number of points won as they lost two of their final three games, including defeats at Burnley and at home to West Bromwich Albion. Leicester City had finished sixth in the league and had the distinction of being the first team to defeat Spurs at White Hart Lane that season, achieving a 3 - 2 success in February.
The
1961 FA Cup Final
didn't live up to the high expectations of the pre-match hype. Bobby Smith played despite an injury problem but it was an early injury to Len Chalmers, the Leicester full back which had the greatest bearing on the match as Leicester found themselves effectively reduced to ten men, although the injured full back hobbled on the wing. Spurs had started brightly and could have scored in the opening minutes but then they let Leicester have more of the ball leading up the injury after twenty minutes when Allen and Chalmers collided.
Tottenham now had the advantage but couldn't find a way to goal. Jones had a first half 'goal' incorrectly disallowed for offside but it wasn't until twenty minutes from time that they eventually went ahead. Allen and Dyson set up Smith who turned and shot past Gordon Banks. Seven minutes later, White dispossessed Chalmers and passed to Smith who crossed to the far post where Dyson headed home to secure Tottenham's 'Double' triumph.
Team:
Brown; Baker, Henry, Blanchflower, Norman, Mackay; Jones, White, Smith, Allen, Dyson.
The 'Double' had been achieved and although the Final hadn't been a classic, the team did what was required of them. The players had produced many exhilarating, quality performances during the season but with the high level of expectation and pressure on the team, on this occasion it was a matter of the job had been completed as they became t
he first team in the 20th Century to win the elusive 'Double'
as 1st Division Champions and FA Cup winners.
Tottenhan Hotspur 1960 - 61 The 'Double' Winners
(1960 - 61)
League and Cup Appearances
Tottenham used only 17 players through the season and only 12 played in the FA Cup games - Terry Medwin replacing the injured Jones for the 3rd Round match. In the League
Blanchflower, Allen, Ron Henry
and
White
were ever presents,
Brown, Baker
and
Norman
missed only one match while
Dyson
was missing from two.
Mackay
made 37 appearances,
Bobby Smith
36 and
Jones
29. Of the reserves
Medwin
played 14 games,
Tony Marchi
and
Frank Saul
made 6 appearances each, with
John Hollowbread
(goalkeeper),
Ken Barton
(full back) and
John Smith
(half back) making a single appearance each.
League and Cup Goals
Eleven players contributed to the season's goal tally of 115 in the League and 21 in the FA Cup. Bobby Smith was leading goal scorer with 33 goals
(28 Lge + 5 Cup)
, Les Allen was close behind with 27
(23 + 4)
while Jones contributed 19
(15 + 4).
Terry Dyson who scored 17
(12 + 5)
was joint top scorer with Smith in the Cup. White contributed 13 in the League and Blanchflower and Mackay both managed 6, two of Mackay's coming in the Cup. In the League, Medwin contributed 5, Norman scored 4, Frank Saul added 3 and Peter Baker scored once. Two additional goals came courtesy of the opposition, one each in the League and the Cup.
The names of the 'Double' team will be forever etched in the memories of every Tottenham supporter. Too easily are players now labelled 'legends' but this was a team of 'Legends' and the one that every subsequent Tottenham team have been trying emulate and live up to.