Tottenham have had many outstanding goalkeepers throughout their history but the present group, Brad Friedel, Carlo Cudicini and Heurelho Gomes are the best they've ever had at the club at the same time. Anyone of them is capable of producing match winning performances and all three have shown that this season.
Pat Jennings
, Ray Clemence, Ted Ditchburn, Bill Brown are all goalkeepers of the highest standing who have been involved in great teams at Tottenham. During their time they have produced many match winning performances and have enjoyed the success of lifting trophies during their time at the club. However, the current group of goalkeepers, Brad Friedel, Carlo Cudicini and Heurelho Gomes while not reaching the height of excellence of their predecessors, are definitely the best group of goalkeepers that Tottenham have ever had at the club at the same time. In the days of Jennings, Ditchburn or the others the reserve goalkeeper was merely that, a back-up to be used in an emergency and the number 'one' had little competition for his place. This, in itself can raise problems, as during
Paul Robinson
's time as first choice he had no competition for the goalkeeper's shirt.
An example of this problem comes from Pat Jennings' time at White Hart Lane. At the start of the 1966-67 season Jennings finally claimed the position as his own ahead of the 'Double' winning keeper, Bill Brown. A few months in to the season, Bill Nicholson allowed Brown to leave for Northampton Town. The next week, Jennings was injured and the 'new' reserve had to play, Roy Brown. The match was at home to bottom club, Blackpool, but Spurs managed to lose 1 - 3. Fortunately, Jennings had recovered by the following weekend and that was Roy Brown's only appearance for the club. Jennings went on to have a long and fairly injury free career with Spurs and take on legendary status for his outstanding performances and contribution to the club's
success in the late 1960s
and
early 1970s
.
The problem of not having a satisfactory goalkeeper to call upon would not be a problem with the goalkeepers who are currently in the squad. They have the experience and ability to step in when required and produce outstanding performances as they have shown this year as manager, Harry Redknapp, has used the Carling Cup and Europa League to provide match practice and competition for his goalkeepers.
The arrival of Brad Friedel from Aston Villa during the summer has added competition for the goalkeeper's position. Carlo Cudicini had seemed content to be reserve to Heurelho Gomes for the past two seasons with an occasional game in a Cup competition or to cover for an injury. Last season Heurelho Gomes' standards slipped with mistakes coming more frequently and costing the team points. Redknapp persevered with him but was clearly exasperated with his goalkeeper until finally deciding to omit him from the team for the final few games of the season and bringing in Cudicini.
Brad Friedel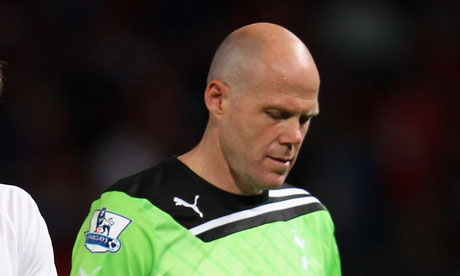 Brad Friedel
(40 years) had come to the end of his contract at Villa in the summer and was looking for a club where he would have an opportunity to play regularly. He had the chance to return to Anfield but Liverpool were wanting him to be their reserve back-up to Pepe Reina. Friedel wanted more and so decided to sign for Tottenham where he was given a two year contract with the incentive of competing to be first choice goalkeeper.
Harry Redknapp was non-commital as to who would be the first choice goalkeeper. Gomes started the first competitive match in the Europa League at Hearts but although Spurs won comfortably without conceding a goal, Gomes didn't look comfortable during the short period at the start of the second half when the home side exerted some pressure on the Tottenham defence. Some of his old problems from last season seemed to be there once again.
The Premier League game at Old Trafford was to tell the full story - Brad Friedel claimed the goalkeeper's position and has now extended his record of consecutive Premier League appearances to 285 matches
(as of 8th November, 2011)
for three different clubs, stretching back to 2004. Now, for a 40 year old goalkeeper to concede eight goals in his first two games at a new club, some might have suggested that it was time to retire but not in Friedel's case. He used his vast experience to set that aside and has now helped Tottenham to their best ever points haul from the opening ten games in the Premier League - twenty two points from seven victories and a draw.
The three points acquired at Craven Cottage in last Sunday's
match against Fulham
are down to Friedel's match-winning goalkeeping performance. He made a vital early stop from a corner and in the second half as Fulham attacked continuously for most of the forty five minutes he produced a series of outstanding saves to deny them. He tipped over a header from Brede Hangeland at a corner, blocked a powerful drive from Chris Baird following a free-kick, dived bravely at Clint Dempsey's feet, saved a drive from Moussa Dembele and in added time blocked and saved in two goalmouth scrambles as Fulham threw everything at Tottenham in a last desperate attempt to salvage a draw from the game. Even the goal that he conceded was deflected past him, off the back of Younes Kaboul. He dealt with the pressure Fulham put on him when they positioned a player in front o fhim for every corner and free-kick. In the midst of the chaos Friedel brought a sense of calm and authority to the proceedings and Spurs weathered the storm and claimed another three points in a match as Joe Jordan said, 'Tottenham would have lost a match like that when we first came to the club.' Friedel was rightly acclaimed 'Man of the Match' for his performance which defied his years.
Brad Friedel claimed the first team place and was omitted from the Europa League squad, taking into account his age and to keep him fresh for League matches. Gomes and Cudicini have been rotated for the Carling Cup and Europa League matches and have also produced outstanding performances in these matches to remind Redknapp of their ability.
Carlo Cudicini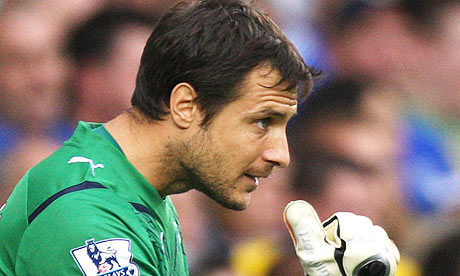 Carlo Cudicini (38 years) has stepped up to the plate in the Europa League games with exceptional performances in the two away matches in Greece and Russia. With a very inexperienced team in both games they needed the loyal keeper to produce some outstanding saves to encourage the young players and prevent Spurs from suffering disappointing results in their European campaign. Against
PAOK Salonika
the young players performed with confidence and control but it required Cudicini to be at his best with a number of important saves. He conceded a penalty in the first half but when it had to be retaken he used his experience to stand up and make it difficult for the player who shot wide. Other crucial saves kept PAOK out and in the final moments as the home side looked for a late winner, he made two outstanding saves to earn Spurs a draw.
Against Rubin Kazan
, with none of the first team travelling, Cudicini denied a very strong Russian
team with a series of saves throughout the match and he was only beaten from a needlessly conceded free-kick when Sebastien Bassong made a mistake. He was 'Man of the Match' and didn't deserve to be on the losing the side.
Heurelho Gomes
Heurelho Gomes (30 years old) is an outstanding goalkeeper who is a mix of the incredible and the unbelievable. Incredible saves along with unbelievable errors which bring an unnecessary pressure on the whole team. This was evident to Spurs supporters when he played for PSV Eindhoven against Spurs in the UEFA Cup. Tottenham lost at home when Gomes was a mix of saves and fumbles but Spurs were unable to take advantage. Then in the away leg which Spurs won to take the game to extra time and penalties, Gomes was the hero. He made saves at vital times in the game which denied Spurs the win their performance deserved - a late save that took the game to extra time, an outstanding save in the final minute of extra time and then a penalty save to deny Jermaine Jenas who could have won the
penalty shoot out for Tottenham
. Gomes is a goalkeeper who can make outstanding saves but follow it up with a basic error which raises uncertainty in the minds of the defence and invites pressure from the opposition. He is a confidence goalkeeper and when he loses that it greatly affects his whole game.
On joining Tottenham, Gomes found it difficult to adjust to the demands and pressure of the Premier League. Any mistake or misjudgement is so often punished in English football that he was immediately under pressure and scrutiny. His arrival coincided with Tottenham's 'two points from eight games' start to the 2008-09 season and the eventual appointment of Harry Redknapp. Two blunders in a defeat at Fulham ended Redknapp's unbeaten start as Totenham manager and Gomes' confidence was gone. The appointment of former Tottenham goalkeeper, Tony Parks, as goalkeeping coach helped to rebuild his confidence and performances. Restored to the team he helped Tottenham avoid relegation and the next season produced some amazing saves as Tottenham reached the Champions League. However, he was still the same keeper with rash decisions and mistakes plaguing his performances.
Last season a series of blunders cost Tottenham points as they sought to retain fourth place in the League. There was the farcical blunder early in the season at Old Trafford where he set the ball down expecting a free-kick, only for Nani to hit it into an empty net. After a number of confidence sapping performances for the goalkeeper, manager and supporters, Redknapp dropped him for the final three games of the season. The final agonies which summed up Gomes as a goalkeeper came in two consecutive games. Against Blackpool at home he saved a penalty but was so hyper after the save that he totally lost control of his actions and rushed out needlessly and conceded another penalty from the resulting corner. Then in the next match at Chelsea with Spurs a goal ahead, he let a shot from Frank Lampard slip from his grasp and roll towards the goal line. He dived back and retrieved the ball before it crossed the line but the referee awarded a goal and Spurs went on to lose the match.
Gomes has played on three occasions this year - he was nervy against Hearts and that performance probably confirmed Harry Redknapp in the decision to make Friedel his number one choice. He than played
at Stoke City in the Carling Cup
. The Stoke game is always a difficult match for a goalkeeper with the home team's high ball and set-piece threat. Gomes doesn't cope well with such tactics but in two hours football he didn't concede a goal as Spurs went on to lose another penalty shoot-out. His next match was the Europa League
home game against Rubin Kazan
. The Russian team were difficult opponents for another young Spurs side but Gomes put in a match winning performance with a number of good saves. He again showed both sides of his game with good good saves as the Russians proved a potent attacking threat but also some nervy moments where everyone had to hold their breath. Spurs won and Gomes played an important part in that success. In his three appearances this season, Gomes has kept three clean sheets.
Tottenham have three top class goalkeepers in their squad and any one of them could be play and be relied upon to put in a very credible performance. No other team in the Premier League has such quality available to them. However, it is widely expected that Gomes, the youngest of the three goalkeepers will move on in January as he seeks regular football. He may return to his native country, Brazil, or to a European league where the pressure on the goalkeeper is not so intense. A
recent article
suggests that Gomes is for sale following a break down in his relationship with Harry Redknapp. they had a fierce row following the match at Old Trafford when gomes claimed that he had been told that he would be first choice with Friedel as back-up.
With Friedel and Cudicini in the senior age bracket, Spurs will have to make a decision in the future about acquiring a younger long term option and that will be a vital decision for the future success of the team. However, for the moment they will make the most of the experience that the three goalkeepers, Friedel, Cudicini and Gomes, bring to the club.