The January 'Transfer Window' is still over seven weeks away but rumours of clubs looking to sign Tottenham's best players, Luka Modric, Gareth Bale, Jermain Defoe, are already surfacing across the media.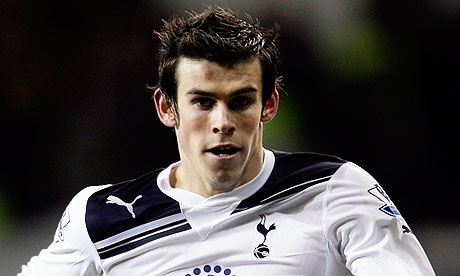 Gareth Bale
Spurs have always attracted media attention and are continually linked with transfer gossip, both in-coming and out-going. While supporters are always attracted by news of new players being linked with the club, they are less receptive to the rumours of imminent departures. This was particularly true last summer with the
media fueled interest from Chelsea in their pursuit of Tottenham's Croatian international midfielder,
Luka Modric
. Chairman,
Daniel Levy took a stand on the issue
, saying that the player was not for sale. He held out against increasing speculation and the player not appearing in Tottenham's opening matches at Hearts and Old Trafford. A less than willing appearance by Modric against Manchester City encouraged further thought that he would be gone by the end of the month.
Fortunately, for Tottenham, the frantic transfer activity of the final day of August did not include the departure of Modric. He remained at the club and has played an important part in Tottenham's revival after two defeats against the Manchester clubs. Spurs supporters want this improvement in fortune to continue in the coming weeks and don't take kindly to the speculation that Chelsea are still interested in the player. Their faltering start under their new manager and with an ageing team has fuelled the thought that Modric is just the type of player who could solve their obvious problems.
Supporters will just have to hope that the Chairman will be as resolute in his resolve to retain Modric as he was during the summer months. The last thing that Tottenham needs now, as the team has started to come together as a unit to produce an eight match unbeaten run in the Premier League, is for one of their top players to leave.
Such has been the success of Emmanuel Adebayor and Rafael Van der Vaart as a strike partnership, that
Jermain Defoe
has been unable to get a starting place in the team. Relegated to brief appearances from the substitutes' bench for League games and helping the younger players in the Europa League, it has been suggested that Defoe may look to leave in order to further his England career. Defoe has looked sharp in the appearances he has made, scoring two goals after coming on as a substitute against both Newcastle United and
Fulham
. These and his two goals against Liverpool and Wigan, plus two in European matches show that he still has the potential to be a leading scorer this season after his poor return last year.
It was rumoured that Queen's Park Rangers might be interested in signing him as they bid to strengthen their team following last year's promotion. A hard-working and skilful team, Rangers lack a natural goal scorer and Defoe could fit the bill. Such a move could suit the player as he would remain in London providing him with the opportunity to attract the attention of the England manager.
The latest disconcerting transfer story is of Barcelona's interest in
Gareth Bale
. Every Tottenham fan is aware that Bale is destined to move away from White Hart Lane at some stage of his career but they're hoping that that day will be delayed as far into the future as possible.
Bale
has started the season stronger and fitter than last year and the team are benefiting from the threat that he provides to opposing defences. Two players have already been dismissed as they resorted to illegal tactics in their efforts to prevent Bale from causing havoc in their penalty area. He has still managed to be both a creator and scorer of goals which have been the end product of some exciting passing and movement as Tottenham have, this year, produced some of their best football for many seasons.
The suggestion that Barcelona will, next summer, offer Tottenham £35 million for Bale would appear to be an under-valuation of the player's worth especially as Liverpool paid that sum to Newcastle United for Andy Carroll. However, if the Spanish club were to use that figure as a starting point with negotiations taking the sum higher, Tottenham might find it difficult to resist the offer and also to persuade the player that he should remain at White Hart Lane, especially as Bale as intimated that he would be interested in going abroad and clubs don't come any bigger than Barcelona, the reigning Champions of Europe.
Other rumours of departures from Spurs would be less contentious -
Roman Pavlyuchenko, Heurelho Gomes
and
Sebastien Bassong
have found themselves out of favour this season and could well be leaving the club in January.
Pavlyuchenko has been linked with clubs in his home country and in Europe on a number of occasions but has remained at the club despite making few appearances in the starting line-up for the Premier League. He has dropped to fourth choice striker, playing in the Europa League where he scored with a tremendous free-kick against
Rubin Kazan
in London.
Gomes
has also been restricted to sharing European games with Carlo Cudicini and has dropped to third choice as Harry Redknapp appears to have lost patience with his unreliable goalkeeper. Gomes who is a great shot stopper is prone to errors and misjudgements which bring unnecessary pressure on his defensive colleagues.
Bassong
looked to be leaving the club in the summer to join Queen's Park Rangers but the deal was stopped by Spurs on the last day for transfers when they were unable to conclude a deal for Gary Cahill. Bassong who had such a positive start at the club has lost confidence and is only selected when others are injured, with
Ledley King
, Younes Kaboul, William Gallas and Michael Dawson ahead of him.
From now until the last day of January speculation will increase over possible transfers both in and out of the club. It creates uncertainty on all fronts but hopefully it will not distract Tottenham as they return to League and European games after the break for the internationals.