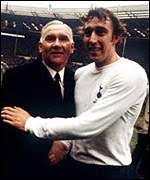 Martin Chivers celebrates with Bill Nicholson
The letter
'C'
creates a problem. Do I include a former captain who will be nameless and defected to our North London neighbours?
Answer:
NO!
GK: Ray Clemence -
part of the success of the early 1980s
RB: Tommy Clay -
1920s FA Cup winner
LB: Ernest Coquet -
member of team in Spurs first season in Football League
CB: Harry Clarke -
member of 'Push and Run' side of 1950s
CB: Peter Collins -
played in 1971 League Cup winning team
M: Ralph Coates -
scored winning goal in 1973 League Cup win
M: Michael Carrick -
member of present team
M: John Chiedozie -
member of mid-1980s team
F: Nico Claesen -
Belgian International in 1980s
F: Martin Chivers -
played a major
part in success of 1970s
F: Garth Crooks -
vital partnership with Archibald in success of 1970s
Sub: Alfie Conn
- Bill Nicholson's last signing.