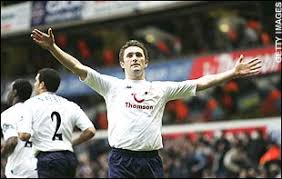 Spurs 2 West Bromwich Albion 1
Spurs season has suffered from too many dropped points due to conceding late goals. Tonight, it was pay back time. A late Robbie Keane penalty ensured Spurs took three extremely vital, if very fortunate, points from this game against a West Brom side whose play and composure belayed their lowly League position.
Martin Jol selected the same team as started against Birmingham so Keane and Defoe started with Mido on the bench.
As always, Spurs started slowly and west Brom kept players behind the ball. After twenty, from a harsh free kich, Curtis Davies gave the visitors the lead and from much of the first half they out fought Spursand restricted their forward play. It was only in the finalten minutes of the half that Spurs started to put the WBA defence under pressure and won a series of corners. The goalkeeper was called upon to make two good saves, a shot from Defoe was pushed and a low effort from Lennon was pushed round his post. In spite of their late pressure spurs went in a goal down.
Spurs started the second half looking to restore the balance but West Brom defended bravely. On the hour, Mido replaced Kelly and almost immediately he had two near misses. Eventually, with twenty minutes left, Spurs equalised. Robinson to King to Carrick to Davids to Dawson to Lee to Defoe to Lennon to Carrick to Mido to Lennon to Michael Carrick who played a lovely ball into Keane who turned his man and lifted the ball over the diving goalkeeper. The goal came from a move that had twelve consecutive passes and a shot, via 10 different players (all bar Jenas), the full length of the pitch, untouched by any opponent. It was Robbie Keane's 50th League goal for Spurs and the 99th of his career.
Following the goal the game opened up and West Brom came out looking for a second. On a number of occasions Robinson had to be alert and as the game passed into the final minutes it looked as if both teams would have to be satisified with a point.
Then with three minutes left, a back pass to the West Brom keeper gave Defoe the chance to close him down. He charged down his clearance and as heraced in on goal, the keeper who had annoyed the Spurs fans with his time wasting throughout the game, pulled him down. The ball broke to Mido who hammered it into the net but the referee had awarded the penalty.
The goalkeeper was booked and Robbie Keane stepped up to take the penalty. Would his nerve hold in these crucial moments. Yes and he hit the penalty to the goalkeeper's right and raced off to the corner to celebrate with his customary cartwheel.
[Robbie Keane - 100th League Goal of his Career/51st League goal for Spurs]
Spurs may not have deserved the win but at this point of the season, any win is important. It ensures Spurs stay in fourth place, three points ahead of Blackburn and five ahead of Arsenal.
At the beginning of March, I spectulated that a club hoping for Champions League football would expect to get a minimum of 9 points from Spurs' four games during the month. They achieved it, it wasn't spectacular, but they showed great determination and effort and are still on course for their best season in many years.
Spurs have 55 points and a goal difference of +16. Their next match is at Newcastle, followed by a home game against Manchester City. A visit to Everton is followed by a game with Manchester United at White Hart Lane. This takes them to the game at Arsenal, home to Bolton and finally the season draws to a close at West Ham.
They have won two of the 9 'Cup Finals' on the road to Europe, there's 7 more to come.