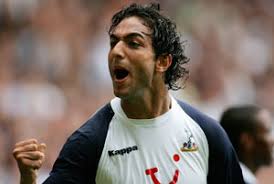 Mido
- Where are You?
It is being suggested that the injury doubt surrounding Mido for tomorrow's game at Birmingham could be a cover up. The temperamental Egyptian is reported to have had a row with manager Martin Jol earlier in the week and has not reported for training since the fallout. This comes at a time when Spurs need to be focussed in order to repair the damage done by the poor series of results since the beginning of January.
For some of those games Mido was absent, playing for his country in the African Cup of Nations. Even then, Mido was involved in controversy as he was suspended by his country and missed the Final as he had a blazing row with the manager at the side of the pitch as he was substituted eleven minutes from the end of the semi-final game with Senegal. He later called the Egyptian management and players, 'amateurs.' This was the second occasion that he had fallen out with his country's management team, having only had the opportunity to play as he had apologised for his previous indiscretions.
Mido has a 'bad-boy' reputation having caused problems for the managers at his previous clubs but Jol seemed to have tamed him and kept him in line as he has been first choice to start throughout the season. When Mido arrived on loan from Roma in January, 2005, he made a scoring start by getting two goals in his debut against Portsmouth. However, he seemed to put on a lot of weight which reduced his effectiveness and he also missed the end of season tour. Atouba and Kanoute who also missed the trip were despatched in the summer but Mido did extra training during the summer and returned to pre-season work in good shape. With the departure of Freddie Kanoute he had his chance to make a good impression. Through the season he has partnered either Defoe or Keane and is the leading scored with 11 League goals.
More light may be shed on the situation tomorrow, depending whether he plays or is a substitute but it is an unfortunate time for this to happen as Spurs were supposed to have started negotiations with Roma about making the the eighteen month loan deal permanent. It was reported that this had progressed and was nearing completion.
Martin Jol has always preferred to play a tall striker/small striker combination so it was Keane and Defoe who were rotated with Mido being the sole tall striker. If the rumours are true, he may have to alter his plans and go with the partnership of Keane and Defoe which many thought would not work as they are too similar in style. It worked well against Charlton at White Hart Lane but may be more difficult away from home against a team which will give no quarter in their fight against relegation.
Mido is a big star in his home country of Egypt with a fantastic following and he seemed to have seen the error of his ways as he always professed that he wanted to make his move to Tottenham permanent. He had been happy and realised that he couldn't always be moving from club to club but again his place is in doubt.