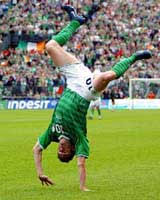 Robbie Keane led the Republic of Ireland to a comfortable 3-0 win in his first game as captain.
Keane celebrated his appointment as captain in the best possible way by scoring his team's second goal in the friendly international against Sweden who are one of England's opponents in the World Cup Finals in Germany.
Robbie had missed a good scoring opportunity before half-time but made amends two minutes into the second half when he scored from the edge of the box, having latched on to a forward header from Ian Harte. This brings his total of goals for Ireland to 26.
Before the game Keane had stated that he had always wanted to captain his country but hadn't expected it to come so soon. He was looking forward to the dual challenge of captaining his country as well as maintaining his scoring record for his country.
He was disappointed to miss out on the World Cup but saw this as a new start.