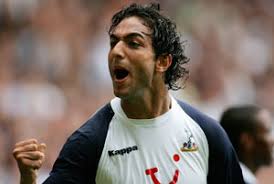 Speculation is rife that the Spurs' Egyptian striker, Mido,
(Pic: right)
may have played his last game for the club.
Rumours have been rife that his recent 'injury' has been a cover for problems behind the scenes at White Hart Lane. A training ground row was rumoured to be behind the original problem a few weeks ago but that seemed to have been sorted as Mido returned to the team, initially as substitute and then started the game against Manchester City. However, at the end of that game as the players left the pitch, Mido and manager, Martin Jol seemed to have words.
Mido did not play against Everton due to a groin 'injury' and it is now reported that he declared himself fit for yeaterday's game against Manchester United but the medical staff disagreed with him. On hearing that he wouldn't be part of the squad, Mido is reported to have left the ground. The club claim that it was with Jol's permission but team mates and other staff at the club were reported in the
'Daily Mail'
to be stunned
.
Mido is nearing the end of an eighteen month loan period from Roma and with the goals that he has scored and Jol's preference for a tall striker, ensuring that he started most games this season, it had been thought that the move would be made permanent.
The early reports appeared to suggest talks had taken place with Roma and a settlement was imminent. However, later comments from Mido's agent said that Spurs were dragging the process out and other clubs were showing interest.
However, in the past few months things have not gone as well for Mido. He went to play in the African Nations Cup for Egypt in January but had a blazing and very public row at the side of the pitch with the manager when he was substituted. He has subsequently been banned from playing for Egypt and missed the Final which his home country won.
Mido has a history of problems at his previous clubs and with the managers but it appeared that he had turned over a new leaf and Jol was handling him well. He also has a problem that his weight seems to fluctuate but last summer he spent extra time training to be in good shape for the start of the season. This paid off for him as he started in the team ahead of Fredi Kanoute who was transferred. However, on his return from Egyptian duty Mido seemed to have gained weight and his performances were not as they had been in the earlier months of the season.
If the current rumours are true, it would seem very unlikely that Mido will remain at White Hart Lane and may well not appear in the team again this season as Spurs complete their final three games, striving to ensure European football for next year.
Update:
Club reaction to reports about Mido:
Martin reacted angrily to a newspaper report suggesting that Mido had left without permission before the game.
"Mido came in for an early fitness test but it was just too painful for him. We all agreed he was not fit to play, we also thought he might have a bit of an infection so it was sensible that he returned home. He desperately wanted to play. All season he has been training hard and I know he wants to help us get results in the last few matches."
"It's an injury that has niggled away at him, but I expect him to be out on the training ground again in the next 48 hours and I can assure you that he will do everything again this week to be available for Arsenal."