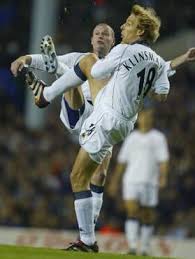 In the Mirror, today, Wednesday, 19th April, the reporter, Oliver Holt, wrote an article entitled:
'Sorry Spurs, but Arsenal Deserve Champions League Place'
My response to that article is:
The article gives a very biased view favouring Arsenal Football Club. I acknowledge that over the past number of years, under Arsene Wenger's management, Arsenal has achieved much success while playing exciting and attractive football.
This season has been a crossroads for the club, there have been changes in personnel and with injuries they have found it more difficult in the Premiership. At this moment in time, while playing in the Champions League semi-finals, the club is not assured of Champions League football next season, as they are four points behind Tottenham Hotspur, with one game in hand.
Arsenal may well beat Spurs on Saturday and go on to take fourth place in the Premiership to earn their place in the Champions League or they may win the competition and if Spurs were to finish fourth, a position they have held since December, Arsenal would qualify as the rules state and so deprive Spurs. If that happens, so be it.
However, for you to suggest that
'

it's desperately important for English football that Arsenal qualify'
is incredible. It means that there has been no point to all the football that has been played in the Premiership for the past nine months – Arsenal must qualify because they have been so good in the past and they deserve another season in the Champions League. Presumably, the same applies to Manchester United, Liverpool and Chelsea. By maintaining the status quo, season after season no-one else has a chance of playing on the biggest stage in European football. This has been an argument that has been used against Spurs supporters for years - that we live in the past glories and won't accept the evidence of the team's short-comings.
This has been another season of transition for Spurs but one which has seen them make more progress than anyone could have envisaged at the start of the season. In August, Tottenham would have been accepted a place in the UEFA Cup next year but such has been the progress of the young team under Martin Jol that their aspirations have suddenly risen. At present Spurs have won the same number of game sas their North London neighbours and lost three fewer so their position in fourth is on merit. They are on the threshold of taking the biggest step forward that the club has seen in over two decades and you want to deny the players, management and supporters.
Your introductory praise of the current Spurs team is worthy and your comments about the team
'are not quite ready'
, are understandable and I would tend to agree with those views although other Spurs supporters would take me to task over that. However, if qualification for the Champions League is achieved, then it is the responsibility of the management staff and directors to ensure that suitable players are signed during the summer to strengthen the squad appropriately. For many seasons, as Spurs have inquired about certain players, their reluctance to come to White Hart Lane has been due to a lack of European football. That opportunity can now be offered to future players.
'Arsenal…… desperately need the oxygen of the Champions League to allow their dreams to breathe. They need the Champions League so they can hang on to Thierry Henry….'

Spurs need the oxygen of Champions League football to holds on to their best young players – Ledley King, Paul Robinson, Michael Carrick, Jermain Defoe, Jermaine Jenas, Robbie Keane, Aaron Lennon, Michael Dawson and others. How long will they remain with the club without Champions League football?
The England manager openly encourages the English players to be seeking European football, Spurs lost their captain, to Arsenal, five years ago because he wanted to win trophies and play in Europe, something Spurs could not offer at the time and his departure made it more difficult for the club. If Spurs qualify for the Champions League they will be offering seven exciting, young English players the opportunity to play against the best players and teams in Europe, surely that has to be a beneficial experience for those players and be a positive for the next England manager.
'

They need it to allow the club to prosper when it moves to the Emirates Stadium next season.'
Arsenal, as you say, '
have no divine right to play in the Champions League'
, but you seem to suggest that they deserve to have one. Every club has to live by the decisions they make and the results the team achieves. Nottingham Forest, Leeds United and many others, including Spurs, have had to come to terms with the slide from the highest level and cope with the difficulties. Arsenal are no different to any other club, even taking into account their recent success.
'English football will be the loser if Arsenal don't make it into the Champions League and all their promise begins to dissipate.

Our game will be the poorer if it loses Henry and Fabregas and Eboue…'

Arsenal lost Viera last season, Henry and Pires are considering going this season. Players move on – Klinsmann
(Pic: A Loss to Spurs)
and Popescu left Spurs in 1995 because they couldn't offer European football – it's no different today. Spurs and the Premiership would have been better if those players had stayed but they didn't. Spurs had to cope with that, nobody wanted to give them a helping hand because they had had such an exciting season at White Hart Lane. The facts were that despite their best efforts they didn't win anything or qualify for Europe that year.
Players come and go now-a-days as supporters have come to realise and every player can be replaced and every team has to move on accordingly – it is the manager's responsibility to address these issues and I'm sure Arsene Wenger is very capable of doing so.
Last season, no-one suggested that Liverpool should have a right to a Champions League place when Everton were in fourth place. Liverpool's history of success in the European Cup is well known but last year in the League, they didn't achieve the success they desired. So why was Spurs' improvement this year denigrated in such a way? Spurs showed the football they are capable of and their progress has been considerable and if they achieve qualification for a Champions League place, they are deserving of it.
Your wish may be granted over the next weeks but if it is taken to its full extent, football as a competitive game will be gone forever – the 'big' four will be guaranteed their Champions League place every year – something they all crave.
Arsenal have had success over a number of years, perhaps a new order is on its way.