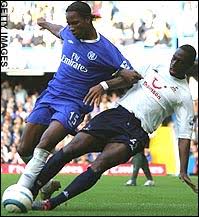 Following quickly after the very good win and performance at Goodison Park, Spurs' march on Europe continues with the visit of Manchester United tomorrow lunch time. United were unexpectedly held by relegated Sunderland at Old Trafford on Friday evening, bringing their winning run to an end but Spurs still have the opportunity to inflict a first defeat upon them. That would be a major step forward for a Tottenham team which hasn't beaten any of the top teams for some considerable time. The last win over United was in the last match of season 2000-01 when Glenn Hoddle's team were inspired to a 3-1 win over the Champions. Les Ferdinand got one of the goals and the injury prone Willem Korsten scored twice. A win tomorrow would be an opportune time to bring that run to an end.
Since that win five seasons ago, the best Spurs have been able to manage was a draw at Old Trafford in the past two seasons. Both results were well deserved and showed admirable improvement on previous occasions. Last year Mendes 'goal' was ruled out by the officials and this season Paul Robinson made an uncharacteristic blunder to give United the lead but Jenas scored with a lovely free-kick to earn a point.
With such a short time since the game against Everton, possible injuries are a concern - King would appear to be out
(Pic: King injury, a major concern)
, perhaps for the rest of the season and possibly the World Cup, while Gardner and Tainio could be doubtful. Mido may be available after his 'injury' and Dawson returns after suspension.
Gardner and Dawson started the season playing together and were quite comfortable in the first four matches, even in the defeat to Chelsea. Hopefully they can play with composure and avoid mistakes at the back because United have the players to punish them. Stalteri looks more confident since his return and Gardner has been more composed in the past two games beside King. In midfield Dacvids or Murphy may replace Tainio if he's out injured but Keane and Defoe have shown that they can play together and with a little luck and more decisive finishing both could have had a number of goals against Everton.
Spurs must go into this game with confidence, they have won well in their last two games, responding to the disappointment at Newcastle. United's late assault on the top place may have been dealt a fatal blow with the dropped points against Sunderland and Chelsea's win at Bolton so with the application that they have shown already this year against all four of the top teams Spurs are deserving of a good result to keep hold of fourth position. Another 'Cup Final' as Spurs aim for the Champions League - a game to get something from and a win would be a wonderful bonus in what has proved a very impressive season.
Results have continued to assist Spurs, Bolton and Blackburn lost at the weekend but Arsenal are still there, four points behind. After this game they will have a match in hand as they are engaged in Europe this week. Spurs have it in their own hands to secure fourth place and a win would be another step in that direction.